---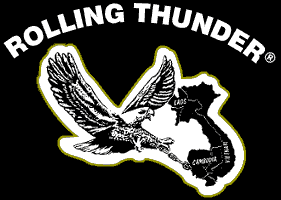 ---
ROLLING THUNDER®, INC.
NATIONAL CHAPTER 1
PO. BOX 216
NESHANIC STATION, N.J. 08853
908-369-5439 FAX-908-369-2072
---
May 14, 1999
Dear Ms. Fitzgerald
I discussed your request with my officers and we support your efforts at the Vietnam Veterans Memorial in Washington, D.C. or near by area to have a plaque placed permanently. This plaque would Honor those who died that served in the Military during the Vietnam War and are not on the Wall. They will not be forgotten.
We the Vietnam Veterans and our supporters from Rolling Thunder, Inc. thank you and your staff for your efforts to make this happen. We endorse all your efforts to this issue. Thanks again for all your support and for the better interest of Vietnam Veterans.
Sincerely,
Sgt. Artie Muller
National President
Vietnam Combat Vet
U.S. Army 1966-67 4th Inf. Div.

---