Welcome to The Vietnam War In Memory Memorial Plaque Project's album of pictures from the dedication ceremony conducted November 10, 2004 by Vietnam Veterans of America. Thanks to all who have helped to accomplish this important element of the Vietnam Veterans Memorial in Washington, D.C.


















---
November 10, 2004
Vietnam Veterans of America Dedicates
The Vietnam War In Memory Memorial Plaque
Vietnam War In Memory Plaque Project Photos by Barry Fitzgerald except as noted
Katie Flynn-Bugge distributes roses before the ceremony.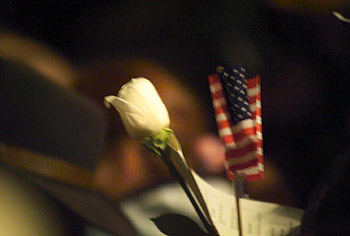 In Memory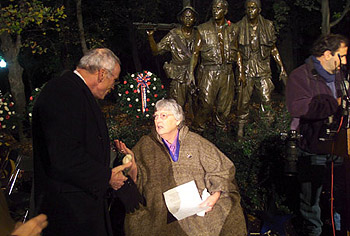 James G. Zumwalt, Ruth Coder Fitzgerald, visit prior to ceremony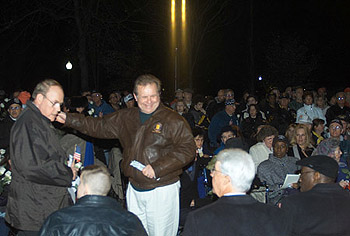 VVA's Rick Weidman, Charlie Montgomery and participants before ceremony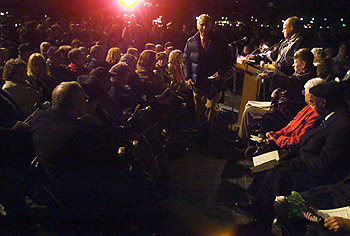 Rick Weidman prepares to begin ceremony. Seated from right are VVA past president
George Duggins, AVVA president Mary Miller, and VVA president Tom Corey.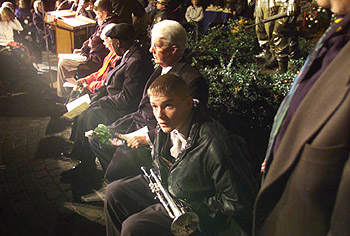 Ryan Maxwell Blank, who played Taps at close of ceremony.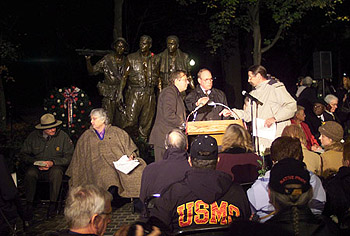 Pre-ceremony conversations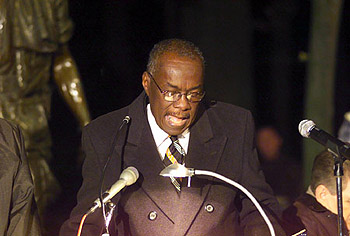 VVA Past President George Duggins delivers the invocation.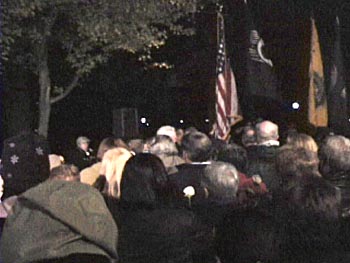 Presentation of Colors by VVA Chapter 752, Culpeper, Virginia.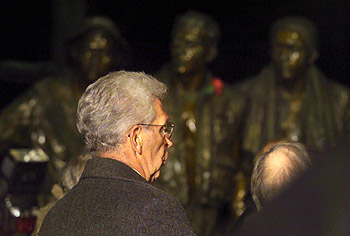 Duane L. (Dewey) Feuerhelm of Churchville, VA, leads the National Anthem.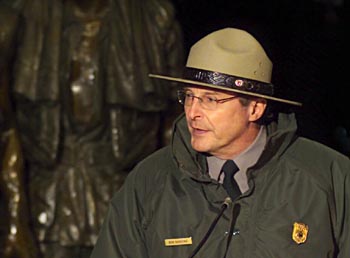 National Park Service Representative Robert Karotko delivers his remarks.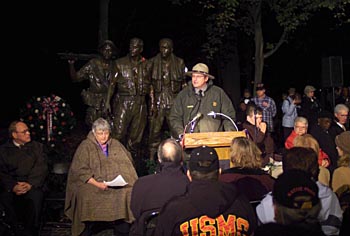 Mr. Karotko welcomed the dedication of the plaque, and invited
visitors to spend some time with National Park Service volunteers.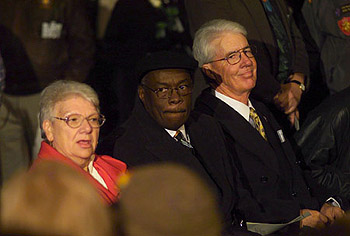 Mary Miller, George Duggins, Thomas Buckley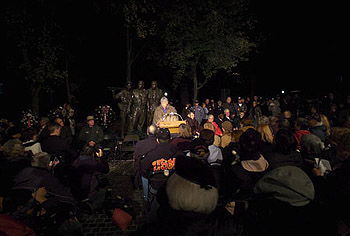 Ruth Coder Fitzgerald related the history of the In Memory Plaque Project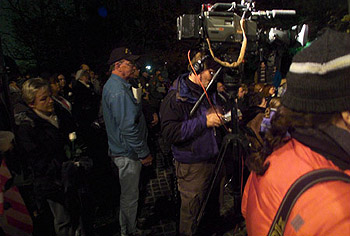 TV feed offered the dedication ceremony to a wider audience.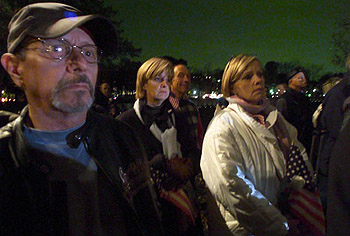 Some audience members remained standing throughout the ceremony.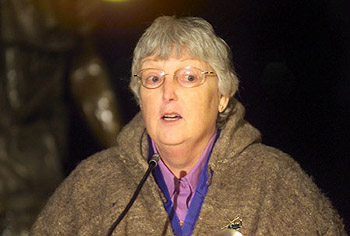 On behalf of the board of the Vietnam War In Memory Memorial, Inc.,
Ruth Coder Fitzgerald voiced appreciation to all who helped to achieve
the In Memory Plaque.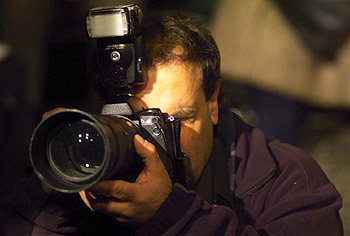 Robert A. Martin, of the Fredericksburg, VA, Free Lance-Star,
(click link for FLS photos, story) was among the news photographers
covering the In Memory Plaque's dedication.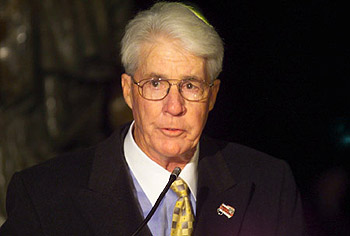 Thomas Buckley lost his wife, former Army surgical nurse
Lynda Van Devanter, to Agent Orange/Dioxin. She was a
highly regarded veterans' advocate whose memoir, Home
Before Morning, helped to inspire China Beach.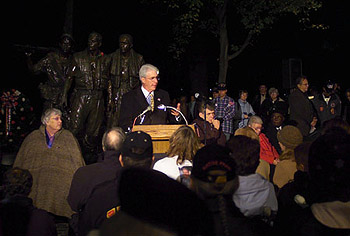 Mr. Buckley urged veterans and families to be aware of the
possibility that post-war illnesses may be Vietnam service-related.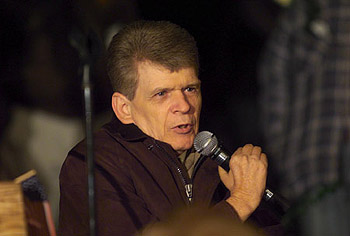 VVA President Tom Corey delivered remarks on behalf of veterans and introduced the moment of remembrance, during which glowsticks were illuminated and those attending spoke loved ones' names.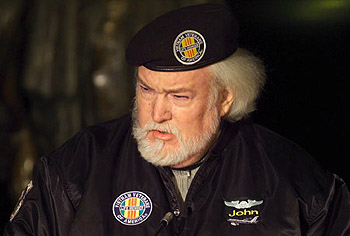 John Rowan, New York State VVA, read his poem, The Other Side of the Wall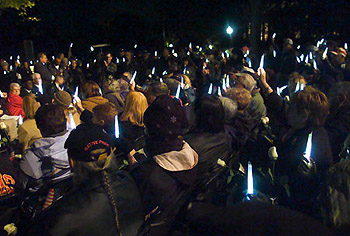 Moment of Remembrance illuminations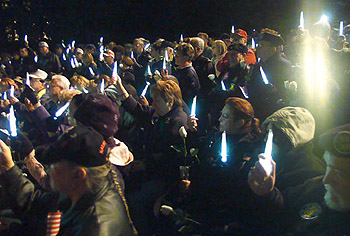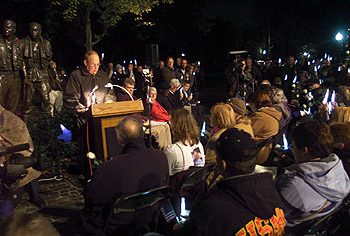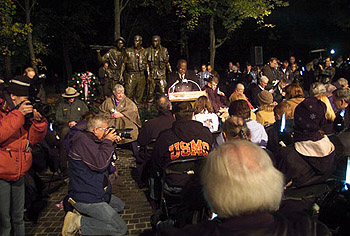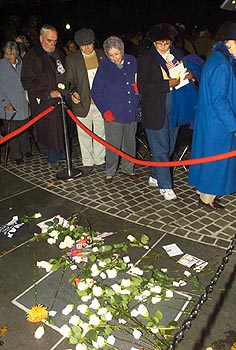 In Memory Plaque Project Secretary Nicolina Corey, (center) joined
fellow participants filing past the memorial following the dedication.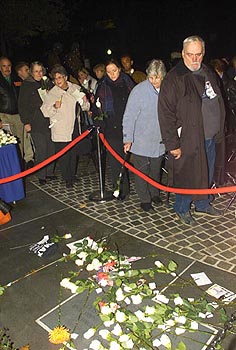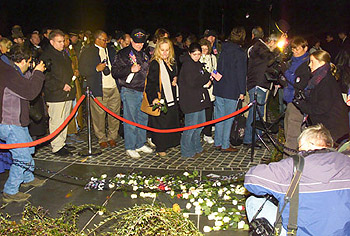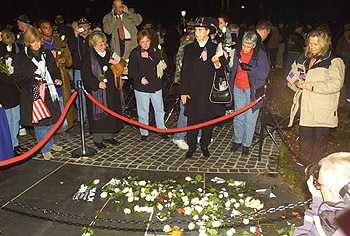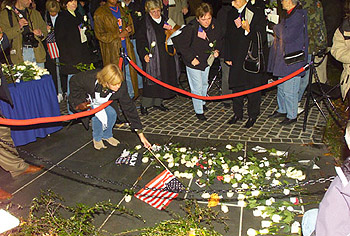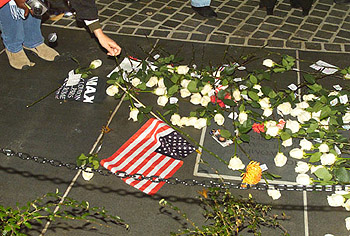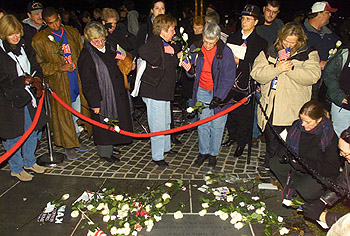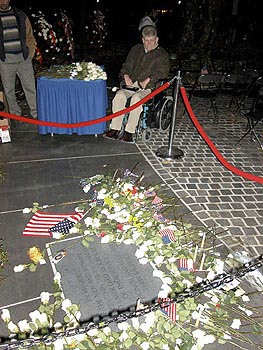 VVA President Tom Corey views the In Memory Plaque


Enchanted Florist contributed symbolic white roses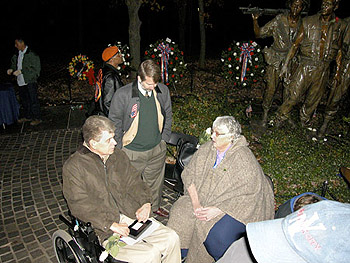 VVA President Tom Corey with former Fredericksburg,
Virginia, Mayor Bill Beck and Ruth Coder Fitzgerald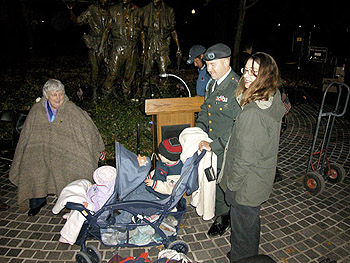 Ruth with fellow Plaque Project board member Michael Fluck and family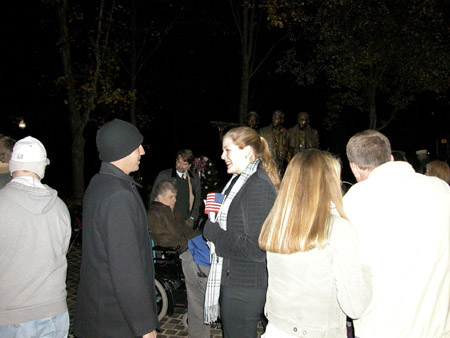 Dan Bowles and Lisa Hoffman talked after the ceremony.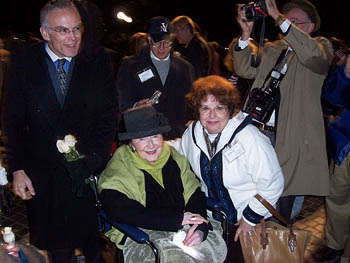 In Memory Plaque Project advisory board member James G. Zumwalt,
his mother, Mrs. Elmo Zumwalt, Jr., and Diane Bowles
Photo courtesy Diane Bowles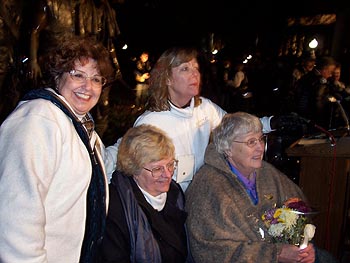 Diane Bowles with In Memory Plaque Project advisory board members
Carla Carolan and Genevieve Douglass Beckham, and Ruth Coder Fitzgerald
Photo courtesy Diane Bowles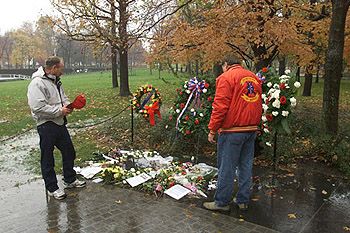 Vietnam veterans Rick Taylor, of Texas, and Clark Johnson, of Utah,
served in the Second Battallion, First Marines, visited the In Memory
Plaque Friday morning after Veterans Day.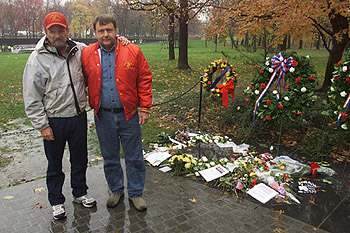 Mr. Taylor and Mr. Johnson voiced approval of the plaque, which
honors veterans including their USMC unit's Lewis B. Puller, Jr.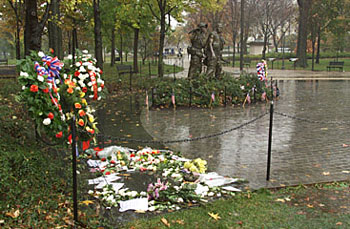 Some visitors have reported difficulty in finding the In Memory Plaque. As indicated on the National Park Service Website, The memorial stone tablet is set cathedral-style into a newly extended Three Servicemen Statue plaza, with views toward the Wall and Women's Memorial.